Accessories and friction plate assembly kits
The following accessories are kept in stock to complete our product range: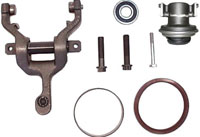 Release forks with side roll infeed
Problems in the release systems used in utility vehicles have resulted in an increasing number of release forks for torsion membrane spring clutches being fitted with a side roll infeed. We offer a retrofitting kit for utility vehicles made by MAN and Daimler Benz. The release forks are only supplied with the appropriate swing bolts.
Extension kits for friction plates
If the friction plate needs to be replaced during a clutch change, the client will require the appropriate ancillary parts. We can supply the right kit for every friction plate in our range.
The ancillary parts kit consists of the following individual components:
The pilot mount, which guides the gearbox shaft.
The shaft seal ring, which protects the clutch against oiling up.
One set of expansion bolts to fasten the friction plate to the engine.
One set of fixing bolts to fasten the pressure plate to the friction plate.