Friction plates
The functional purpose of friction plates
The flywheel serves as the friction element for the clutch plate. The pressure plate is bolted to the friction plate, thus forcing the clutch plate against the operating surface of the friction plate.
The following features of the friction plate should be checked when the clutch is being replaced: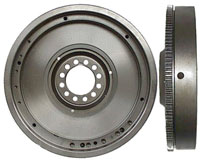 Condition of the surface
Damage to the cog ring
Damage to the operating ring related to the shaft sealing ring for isolating the engine
Replacement of alignment pin
If the friction plate has been subjected to excessive wear, in particular with "pot friction plates", special care should be taken to ensure the bolting surface is replaced around the milled areas.
Design variations
We differentiate between the following design variations in friction plates intended for utility vehicles: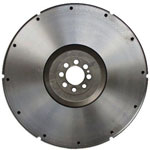 Friction plates for Euro II and later engines
The friction plates bear additional recesses beneath the splines in the form of milled grooves or bore holes. These recesses are required for absorbing the movement during electronic injection (EDC). When changing the flywheel it is imperative to ensure that the recesses are aligned, as otherwise any misalignment could cause engine damage.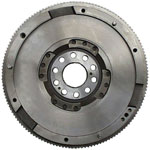 Dual flow flywheel
With a dual mass flywheel, the flow from the flywheel is divided into primary and secondary flow. A spring damping mechanism is located between the two flows. This permits the engine rev fluctuations to be reduced optimally and contributes to noise hindrance and protection of the gearbox.
We hold stock of all conventional friction plates for MAN and Daimler-Benz vehicle models.
Upon request we can supply cost-efficient refurbished friction plates as alternatives to new components.