Driver plates
The functional purpose of driver plates
The clutch plate serves as a friction element between the friction plate and the compressing element of the pressure plate, transferring the engine torque moment to the gearbox input shaft.
The following additional tasks must also be fulfilled:
facilitating gentle and smooth starts as well as swift gear changes
capturing any engine vibrations and prevention of transfer to gearbox
optimising the durability of the clutch linings
The type of clutch lining deployed is the determining factor for transfer of the engine torque moment and the durability of the driver plate. Therefore only clutch linings of the very best quality are deployed in our manufacturing processes. A close collaboration with lining manufacturers ensures that the correct linings are used to fulfil all our clients' specific requirements.
This applies particularly to "problem vehicles" (where the linings are "plucked" or require additional durability). Use of special linings is recommended to reduce or alleviate the problem.
Types of linings
We differentiate between the following types of linings:
Organic friction lining
Good start properties, high burst revolution count and durability
Short-term thermal stress possible up to 350 °C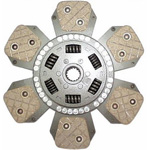 Sinter linings
High heat resistance properties and abrasion durability
Bad start behaviour characteristics
Differentiation between types of linings according to the vehicle model and implementation: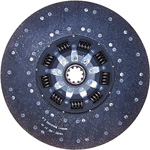 Driver plate with torsion damping
The torsion spring package absorbs vibrations between engine and gearbox